BOW Magazine, nr. 24 | Creative industries, innovation clusters, and internationalisation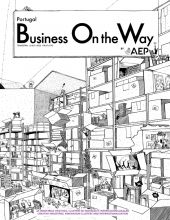 BOW Magazine, nr. 24 | Creative industries, innovation clusters, and internationalisation
"Creative industries, innovation clusters, and internationalisation" is the theme of this issue of BOW magazine. Or, the "urgent need to accelerate and complete a transition to a new competitive paradigm", that Augusto Mateus speaks of in the article in which he analyses the subject. The professor defends the need to build "synergies between business and culture and creativity" as "crucial to affirming a new competitive paradigm for the Portuguese economy".

At the end of this very interesting article, which we highly recommend, Augusto Mateus concludes that "the economy is less and less a place for raw-materials and finished products, and increasingly a place for the explosive mixture of innovation and differentiation. In that sense, all industries will be cultural and creative, or they will simply not survive."

Equally interesting are the articles on this subject written by the secretary of State, João Neves; Manuel Ramalho Eanes, chairman of TICE; Ricardo Valente, alderman at the Porto City Hall; Lutz Pietzold, chairman of the German Design Council, and Francisco Cipriano, from the Calouste Gulbenkian Foundation.

This issue of BOW magazine also includes a very interesting interview with Guta Moura Guedes, one of the most important figures in the creative industries in Portugal and, as always, we end with testimonies of four member companies: Hivolve, Elou Cork, Flipkick and Vicoustic.

The markets we cover are Germany, Italy and the United Kingdom, accompanied by graphics using data provided by Accenture.

And finally, so that everybody can keep up-to-date with the past and future activities of the AEP International Department, we advise you to read through the AEP Launches and Activities section, as well as the BOW Calendar, a very useful tool to help plan the participation of your company in events internationalisation-themed events.

We trust you'll enjoy the issue!

Download dos artigos