BOW Magazine nr. 16 | Artificial Intelligence at the service of Internationalisation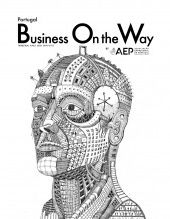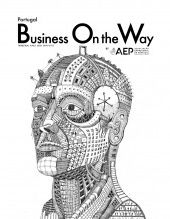 BOW Magazine nr. 16 | Artificial Intelligence at the service of Internationalisation
"Artificial Intelligence (AI) is at the centre of the digital transformation that we are currently going through, namely with machine learning, that translates into knowledge representation models based on sets of data that open the door to 'learning' algorithms based on large volumes of data, called big data. This is not science fiction, it is reality, evolving fast and is already part of people and companies' everyday life." This is how AEP chairman Luís Miguel Ribeiro defines the subject we chose to focus on in this 16th edition of BOW magazine, "Artificial Intelligence at the service of Internationalisation".

We start off this important discussion with an article by AEP board member Paulo Vaz, who provides us with a sketch of the challenges posed by the pandemic to the corporate world, and how Artificial Intelligence (AI) can become a crucial instrument for improving market, client and business management, among others.

In this edition you can also find articles by important experts on the reality of AI, more specifically DefinedCrowd, a Portuguese company that specialises in AI based Data Analysis and is currently headquartered in Seattle, USA. But, also, Talkdesk, a company that creates digital customer service call centres in record time and is based in San Francisco. Finally, Unbabel, a company that enables customer support centres to speak the language of any market in the world, and that also operates out of San Francisco. These companies, created by Portuguese talent, are blazing a trail for AI and speak to us about the products and services they have been developing, and how these are helping theirs and their clients' businesses go global.

We also have a very interesting article by Mário Rui Costa, from Altice Labs, which speaks of the practical applications of AI and their impact on business and the world.

As for the rest of this edition of BOW magazine, the Internationalisation Radar section focuses on two AEP member companies, António Meireles and António Salgado, and the target markets in this edition are Chile, Colombia and Peru, which we analyse, as always, using data provided by Deloitte, a very useful tool for the internationalisation efforts of our member companies.

Enjoy your reading!
Download dos artigos