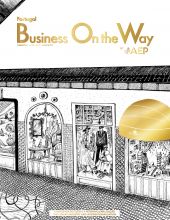 BOW Magazine, nr. 28 | The Luxury Industry and Internationalisation
"The Luxury Industry and Internationalisation" is the subject covered in the latest edition of BOW – Portugal Business On the Way magazine, which has been enriched by the opinions of Bernardo Ivo Cruz, the Portuguese Secretary of State for Internationalisation; António Braz Costa, general manager of CITEVE; João Faria, chairman of the Board at AORP; Paula Amorim, founder and chairwoman of Amorim Luxury; Helena Amaral Neto, coordinator of the courses on luxury at ISEG, and Diogo Barbosa, general manager of Exponor.

In an interview, Francisco Carvalheira, secretary-general of Laurel, the Portuguese Association of Brands of Excellence, claims that Portugal possesses "several of the richest and oldest savoir-faire in the world, such as Portuguese naval carpentry".

This edition also features some of the most successful Portuguese companies, such as ACH Brito, Epoca, Faro Boats, Vista Alegre Atlantis and Omni Handling. And because AEP just can't sit still, we also bring you a report on our events and internationalisation trade missions during the second quarter, as well as those we have scheduled for the near future and which, of course, all companies, from all sectors, are invited to attend.

Enjoy your reading!
Download dos artigos