BOW Magazine, nr. 22 | The Environment, Renewable Energy, and Internationalisation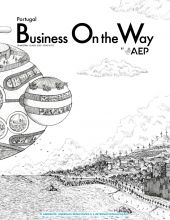 BOW Magazine, nr. 22 | The Environment, Renewable Energy, and Internationalisation
The 22.nd edition of BOW Magazine, published by AEP, is dedicated to "The Environment, Renewable Energy, and Internationalisation".

In this issue you can read articles by some of the biggest names in the sector of renewable energy and environmental stability, namely in fields such as wind farms; photovoltaic solar plants; wave energy converters; green hydrogen; waste as a resource and water as a critical resource in the context of the fight against climate change.

Portugal began producing electricity from renewable sources years ago, and was the first country in the world to pledge itself to carbon neutrality by 2050. Besides the benefits in terms of air quality, public health, and savings, renewable energy is also a boon to the Portuguese economy. "Portugal's supply of renewable resources is higher than the European average, which puts it in the position of being able to create a hub for the industry, a European Qatar, so to speak", says the chairman of the Portuguese Association of Renewable Energy (APREN), Pedro Amaral Jorge. This 22nd edition of BOW also boasts the vision and opinions of a minister and a secretary of State; INEGI's Alcibíades Soares Guedes and José Carlos Matos; CEO of Finerge, Pedro Norton; CEO of GreenVolt, João Manso Neto; country sales manager of Acciona Energia de Portugal, Aprígio Guimarães; general manager for Portugal of CorPower Ocean, Miguel Silva; Chairman of APDL, Nuno Araújo; Chairman of AP2H2, José João Campos Rodrigues; executive director of Smart Waste Portugal, Luísa Magalhães, and an extensive analysis of the sector, from the perspective of internationalisation, by Adriano Fidalgo, executive director of Astrolábio Orientação e Estratégia.

This issue's interview is with Miguel Stilwell, CEO of EDP Renováveis and Grupo EDP, a leading renewable energy company that expects to invest 24 billion euros between 2021 and 2025, 80% of which will be allocated to renewable energy.

The target markets highlighted in this edition of BOW are Brazil, Mexico, and Paraguay, analysed with the aid of Accenture graphics. The Internationalisation Radar focuses on companies such as Galp, Jerónimo Martins, and SYSADVANCE.

Finally, learn all about the initiatives, missions, and activities that the AEP has prepared for its companies and members.

Enjoy your reading!
Download dos artigos